Relocate from one place to another makes you think about creativity and interesting. It makes you happy and exciting about the new place and stuff but it becomes very tiring and stressful when you are moving your house items alone. Hiring man with a van service can definitely make you stress-free and lets you manage everything in a proper way.
You are unable to move large size house items yourself. You will need someone to share your burden and help you in moving to another place.
Our 2 men and a van Australia team will arrive on time with a clean van equipped with everything needed to safely transport your house belongings It includes trolley, blankets, and straps for securing your belongings come as standard. The cheerful team will pack, load all your goods, transport them to your new home location, unload them to the place indicated by you.
Our 2 men and a van removals services team have been working for half a decade and have professional moving with houses. We are providing man with a van complete services at a reasonable rates. So to make sure that their removals could be carried out in a much satisfying way. On the other hand, 2 men and van are working very successfully in Australia. Our company aim is to give maximum availability benefit to the customers.
Removal of Packaging service
The movers and packers of 2 men and van can easily handle all types of difficult situations. They can easily assemble and disassemble your belongings. Moreover they can easily transport all your belongings to the new location without any trouble.
The movers can pack all your belongings very safely in the boxes because they are trained and highly professionals. They offer 100% no damage guarantee to the customers and you can have a relaxed and stress-free removing day of your life.
Why Man with a Van service is essential?
The reason Man and Van services are considered essential is that while you are moving to a new location, there are certain common factors that make moving hard.
Lack of resources
Moving requires sufficient resources for both manpower and mechanical power. Packing endless items, loading heavy items, and then unloading them back requires knowledge, manpower, and the right equipment. Doing all these tasks on your own, can cost you both physically and financially.
Lack of time
Unfortunately, the life we are living today does not give us much time to do any work leisurely. Most people are bound by deadlines and therefore have less time for planning and execution.
Fragile items
These days people are fond of collecting antiques which are not only expensive but also delicate. Lack of experience and resources can cause a lot of damage. So it's better to hire affordable fine art removals services. They can make your move simpler but can guide you on the various aspects of moving.
Benefits of hiring a Man with a Van service in Australia:
Reduce time and stress
In hiring a reliable moving company. You can save both time and energy. Hence the hired moving experts will do what is needed to do with utmost care on your part.
Reliability
The thought of packing, loading, unloading, and unpacking may appear simple to you, but the real scenario can be difficult without the professionals or experts. choose the best reliable moving company just like 2 men and van.
Cost-Effective
The only means to alleviate your worries and problems is to hire the best local moving company with cost-effective.
Local, Nationwide and International capabilities
Whether you're looking for a small move or a large move, we can help. We offer the best removal services at an affordable price that suits you.
Packing and unpacking
They offer professional packing services and the removalists are well-equipped with proper skills in packing things carefully using the appropriate materials being conscious not to damage the items.
Security and safety
This is the biggest advantage of having a trusted moving company to transport all your items to the desired location.
Service is flexible
A well-reputed and famous man with a van service is in fact affordable and safe.
Service is Customized
Another very important advantage of the man with a van service by a well-reputed removal company is the customization of the services.
ABOUT OUR COMPANY
Moving is one of the toughest activities for anyone, and it should be even for the seasoned man and van professional. After all, you are moving your complete house to a new unfamiliar location. So just leave all your worries of moving to the experts. We are experienced in a wide variety of different types of the move from single items to a whole house both local and long-distance.
Our Man with a Van Services in Australia is one of the best removal services in Australia. They offer House removals, house replacement, office removals, office replacement services, etc. They have plenty of experience to makes you are moving successfully.
The best part is that Man with a Van Services in Australia has the appropriate vans for the protection of your equipment. These vans are well-equipped. We are here to provide you with all our support!
One of our top goals for 2 men and van was to ensure that all our moves were affordable for everyone. We provide an excellent service at a competitive price that rivals all our competitors.
If you're interested in a man with a van service, hire in Australia. If you have any questions about our services,
You can contact us via email at info@2menandvan.com.au OR

By phone on either 0480033100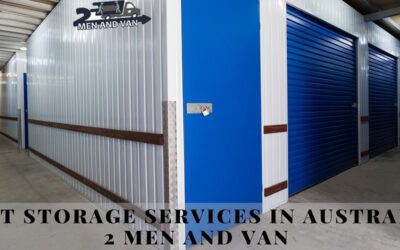 Looking for reliable storage services that work for you and enabling you to make sure your belongings are safe and secure can sometimes feel like a challenge or struggle. But our 2 Men and Van removalists services also include a storage option, making it ideal for...
read more