Moving to a new place can be time-consuming and can be a big transition. The whole process of relocation whether it is related to your house or office is very disturbing. Therefore when you take the responsibility of packing, shifting, and lifting everything on your own it requires lots of stress. To avoid all of this stress, hire 2 Men and Van Interstate  Removalists.
Our 2 Men and Van movers can take care of all aspects of your moving. We guarantee to given our customers a quality door-to-door relocation experience. In short, relocation of your home or office can be truly stressful. With this kind of effort, you are shouldered with the responsibility to do various tasks like packing, lifting, and moving things from one location to another. However, you will no longer have to worry about such things as you can now get help from interstate removalists.
Problems in the Relocation process:
We earlier discussed that relocating your house or office from one place to another can be a strenuous task. Here are some issues that people face during the moving process:
Lack of time:
There is a number of things that need to be done before moving and it is very easy to feel devastated. In most cases, the time that you set for the entire relocation process will prove to be short simply because of the countless things that need to be done. It is difficult to estimate the time that the whole process will take while moving from one location to another. Due to this shortage of time, there are many things that are either not done perfectly forgotten.
High moving cost:
The shortage of planning combined with the wrong mover can significantly cost time and money. Hiring the wrong moving companies or forgetting something behind can lead to further trips which eventually cause high moving costs. Excellent care needs to be taken when planning out the relocation process to secure that there are no unwanted expenses.
Accident and mishaps:
An accident on the road can cause much distress, especially if you are moving your belongings on your own. Nothing can be worse than being helpless on the road with a broken Van and all your stuff in the back. You can avoid this by hiring 2 Men and Van expert Interstate Removalists. you need to have the proper full-value removal insurance to make sure that mishaps or accidents do not cause any harm.
Damage to your belongings:
During the relocation process, there are several steps involved in the transportation of belongings from one place to another. It is necessary to pack, labeled, and transported each and every item before moving. If you are doing the packing process yourself, then you need to be an expert with packing fragile or breakable items as they are delicate so they might just get damaged. Also, the largest items such as furniture can get damaged or scratched during the relocation process as well.
Advantages of hiring 2 Men and Van Removalists Company For Interstate Removalists Move
Moving from one place to another can be very interesting but it can also cost you much especially when you hire someone to do the task for you.
We offer a One-Stop Service
If you are thinking about realizing a stress-free relocation then you are in the right place and. No matter what kind of shifting or relocation service is on your mind, name it and we'll make it for you. Thus, there is no need for you to go somewhere else and contact removal company for an Interstate Removalists service.
We provide protection to your items
Most of the time when removalists are not careful when handling the belongings of their customers. For that matter, it is important to hire highly qualified and professional movers services in the city to make sure that your belongings are handled properly, safely, and securely.
With our expert teams, you are assured that every item especially the fragile ones is properly packaged and transported from your place of origin to your new destination. We offer professional packing services, in that, our teams also use quality and reliable packing materials that provide protection even when they are heavily impacted during moving, handling, and transit.
We Save your Time
There are people who prefer doing the removal services of their belongings on their own. we cannot deny the fact that while you are preparing the packing of your stuff this can take much of your time, effort, and money especially when you need to get back to Adelaide many times until you have all your belongings transported to your new location.
Our Interstate Removalists team is professional and experienced in relocating services. And also we can assure you that sorting, packing, shifting, transporting, and unloading of all your items and belongings will be done for you in an accurate time.
We offer Insurance to our customers for their belongings
We ensure your items are properly insured – this is one of the advantages of hiring our company. Hence it makes you feel secure and protected during the relocation journey to your new place in Adelaide. Knowing that your belongings are fully insured will give you relax mind and you will feel happy like you're in good hands.
No Extra Costs
Many companies in Australia have hidden charges which tend to make customers worried when they see the total amount they have to pay in the end. Our removalist services will never do this type of work they will always check all the things that have been included in your final bill and even the customer can read our terms and conditions openly on our website.
What makes your Interstate Removalists team different from others?
Moving is already hard and tiring enough but with the help of professionals, you don't have to worry about the safety of your stuff. Choosing the right Removalist company like 2 Men and Van that ensure everything goes smoothly. If you are still thinking that why you should choose us instead of other Removalist company out there. Here are some key features of good removal companies before selecting one for your move which makes us different from others:-
It is very important for a customer to know whether the company is fully licensed or, authorized not. Because the number of moving scams are increasing day by day. 2 Men and Van in Australia is a well-known and trusted removalists company. In short, we are a fully licensed removalist company to move items anywhere in Australia.
The company will even provide insurance for your stuff during transit to avoid the hassle if there is any damage. Moreover, In case of any damages, our company will give you full insurance coverage.
Our company prices are quite competitive as compared to others. We never charge hidden costs to our customers. Maintaining our reasonable rates is one of our most primary motives.
Professionally Trained Staff
Our Interstate Removalists company has trained staff to pack your items and organize the entire move in an efficient and speedy manner. We also offer experienced and professional removalist team that are experts in the removal and cleaning services.
Great Customer Satisfaction
Our Company is very responsive and has courteous staff. Our team will always clear your all queries with utmost delicacy and fulfill your expectation. They help you every step of the process during relocating. 2 Men and Van have all the good qualities you can think of when it comes to being a professional Removalists and also provide our customers an excellent and perfect customer service.
2 Men and Van, Interstate Removalists company always offers high-quality service whether for shifting or packing. We are an honest removalist company for our customer. A good company will enter into a contract with clients clearly specifying the terms and conditions of the job. We used updated techniques, equipment, and facilities during moving.
FAQs On Interstate Removalists Services
Since how long are you in the removalists service?
We have been in the removalist service for more than 5 years and served thousands of customers. We still are in contact with our previous customers due to the relations that we have built with them. Most of our customers are from referrals. All thanks to our hard-working teams.
Are there any obligations when obtaining estimates for relocation?
There are no obligations regarding this. Our estimates are free and we make sure that all your belongings are safe and secure with us. And we do not share any of your information with another party. You can rely on us.
What will happen if I claim for a damaged property?
After applying for your claim our concerned department will look at the damaged property and recover the loss for you. You do not need to worry about this because our team of removalists team handles these types of cases professionally.
Do you require more information?
If "Yes" then call us on our number: 0480033100

Or you can email at : info@2menandvan.com.au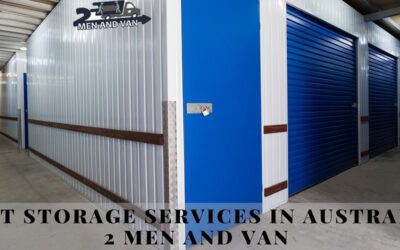 Looking for reliable storage services that work for you and enabling you to make sure your belongings are safe and secure can sometimes feel like a challenge or struggle. But our 2 Men and Van removalists services also include a storage option, making it ideal for...
read more