To protect against the additional spread of the COVID-19, different nations are enforcing a lockdown on numerous non-essential solutions. As of right now, products, logistics, and home shipment are considered an important service because of which moving companies like 2 Men and Van in Australia have been permitted to execute their tasks daily.
Nonetheless, there are some obligatory standards established by the government which must be followed by everybody to ensure their very own safety and security during the move.
How Do You Know If 2 Men And Van Is The Right Choice?
Do Not Hesitate To Enquire About The Following:
Are 2 men and van decontaminating their vehicles at the beginning and end of work, every day?
All Removalists should cleanse all their automobiles daily with sanitizers and anti-bacterial to avoid any kind of contamination.
Are the House Removalists operating with the minimal staff required for your move?
Just the minimum feasible house movers should be helping with the move. This will allow House Removal Companies to comply with the social distancing norms established by the government.
Are the house moving companies screening all the movers regularly?
All the movers need to be screened for fever every day. House moving companies also need to maintain a close check on all the movers and their health. Check whether all house movers wear safety equipment throughout the relocation procedure and if they disinfect all your products once they get to the desired location.
Do the House moving companies carry out surveys and offer quotes online?
Various movers and packers offer online surveys and quotes. This guarantees social distancing as well as helps avoid unnecessary gathering of too many people in one location. 2 Men and Van also provide free online removal quotes for better estimation.
How to get ready for your move during the COVID-19?
Planning the entire relocation is a tiring and exhausting procedure. To add on to the stress we also have the coronavirus, due to which it is all the more essential to maintain extra hygiene and cleanliness. Even the slightest mistake on one's part can have serious consequences.
That is why it is important to ensure that we choose the right house movers who are taking all the precautions stated by the government. Along with choosing the right moving company, you also need to take a few steps to ensure your safety and the safety of your mover.
Ensure social distancing
It is crucial to follow social distancing norms seriously as well as avoiding going to congested areas. Also, during your move, ensure a substantial range of a minimum of 6 feet from everyone. This will guarantee that you do not come into direct contact with any person.
Wash your hands often
According to WHO, washing your hands for a minimum of 20 seconds is an important action in regulating the spread of the virus. Clean your hands regularly and refrain from touching things people touch frequently, like the door handle.
Sterilize your items
You have to sanitize your possessions once you reach your destination.
Wear a mask
Do not remove your mask when you are near your movers. Check that your movers put on masks at all times.
Cancel the move if you are unwell
In case you feel unhealthy, do not wait before canceling the move. The safety and health of your family members as well as the movers must be your top concern.
Pack and unpack on your own
Refrain from working with an outside business to unpack or load your products as your goods might get contaminated. Avoid borrowing anything from anyone.
Call your moving company and verify your appointment
It is extremely important to verify your consultation in addition to discussing the best methods for the moving day. Inquire in advance about the time when they will be arriving to make sure that there are no miscommunications about the pick-up or drop location.
Make all the necessary purchases in one go
You're most likely to get it right with just one trip to the store, so ensure you understand specifically what you're likely to need for your move. When you have a doubt concerning what to buy and what not to buy, take some extras.
Tidy up as you pack
When was the last time that your bedside light was turned on or your crockpot was cleaned? Use this opportunity to sterilize your belongings, cleaning everything with anti-bacterial. If you do not have any, you can make one with a solution of one tbsp bleach to one-gallon water. You can ask for deep cleaning services from your moving company for proper cleaning and sanitisation of your old and new place.
Pack everything 24 hours before the moving company's arrival
Coronavirus can last a long time on surface areas, for as long as 24 hours on cardboard boxes. Your movers will be using protective gear, yet, for every single individual's safety, you should certainly have your boxes loaded a minimum of a day before your movers' arrival.
We are still operating and transporting goods so do not hesitate to contact us. We will assist you in relocating quickly and efficiently.
You can call us on 0480 033 100, or

contact us by sending an email at info@2menandvan.com.au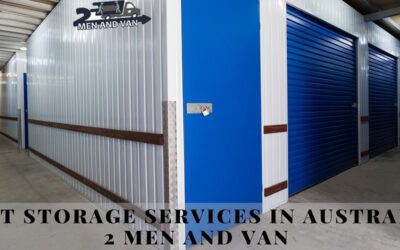 Looking for reliable storage services that work for you and enabling you to make sure your belongings are safe and secure can sometimes feel like a challenge or struggle. But our 2 Men and Van removalists services also include a storage option, making it ideal for...
read more