Moving your large piano from one place to another isn't an Easy Task. The Piano is one of the most fragile musical instruments that are more expensive than any other musical instrument. They are normally over-sized, this is the reason, they require some extra care and attention when transporting.
Because they are much huge and weighty, however being a great deal delicate. They ought to be shifted thoroughly with due care and safety. As we all know that Piano is a delicate instrument that should only be moved by professional Piano Removalists like 2 Men and Van.
It should be handled with care rather than shifting on your own. Our Piano Removalists team uses a piano trolley to wheel your piano through doorways corridors, and for moving it floor to floor. We have the necessary tools and manpower that are handy and reliable. Our Piano movers have gained many years of experience and are specialists in piano moves.
Several reasons why should you opt professional piano mover
When transporting and storing your piano, With the right expert caring for your large, delicate instrument, you have peace of mind knowing your treasured belonging is in careful hands.
Piano Is Heavy
It is very tough to take care of the piano as it is quite heavy most of the time. There are numerous shapes of a piano. Therefore, a professional piano mover is the one who could handle it and shift it to a safe location. Relocating on your own could be more dangerous.
Instrument Size
Most of the time to carry a piano is difficult due to its shape or size. These instruments often weigh more than any other furniture in the house. Movers use specialized dollies, stabilizing straps, and floor covers, in order to lift these instruments properly and safely during moving.
Special care for piano movers
With the help of piano removalists experts, the professional piano movers will help you out in moving throughout the staircases and out of the building with the proper attention and care while moving it. As it is heavy, They will easily carry or move your piano from one place to another.
Equipment for Moving
The piano movers are experts and they use the right type of equipment to move your piano from one location to another. Professional Piano Removalists have the dolly and the skid that is also known as the piano boards.
Proper Functioning
The professional piano movers will help you understand the structure and the functioning of the piano very well. This makes it easier for you to decide exactly what the piano needs to be moved while shifting from one place to another. These piano movers are adept and they help you in moving your piano from one location to another easily and at reasonable rates. So, it's better to hire Experts like 2 Men and Van.
Here are some key factors that Complicate the Piano Moving Process
Access Point
Most of your time people prefer to handle on their own without hiring anyone. However, large items such as your piano may have to pass through larger access points like a Front door, sliding door, or balcony door. By moving itself may cause several injuries to you or your items themselves. So it's better to choose a professional for piano Removalists service as they use a crane or lift to move the piano to a new location.
Stairs
Probably the most visible factor in the difficulty of piano moving is the number of stairs in your house. Staircases can be so difficult to navigate with pianos that many moving companies charge an extra fee if the instrument travels more than one floor up or down. If your stairs are narrow, there is an ornate banister or curve, these characteristics can make the process more complicated.
Hallway and Door Dimensions
The unwieldy feature increases the chance of property damage and injury, especially when paired with houses that are difficult to navigate. If your house has a narrow door or gates, low ceilings, or thin hallways, your movers may have to partially or completely disassemble the piano to get the instrument out from the current address.
Remove all unnecessary items
When you are preparing for a piano move, remove all other items such as overhanging, light fixtures, decorative hardware, and other architectural items that may stand in the way of the piano removalists team.
Long Distance
Pianos face such specific transportation challenges, distance is a significant factor for interstate piano removals. The distance between your current location and your future location may affect the cost of piano moving. These instruments must be properly secured and padded during shipping. Pianos are also highly sensitive to environmental changes so piano movers must take these factors into consideration.
Seasonal Weather
As a piano owner, you may know that your piano is susceptible to changes in temperature and humidity. However, you may not realize how much these factors can complex the average move. If possible, move during a temperate climate when your piano is less likely to encounter high temperatures and humidity levels while in- route. Inquire about climate-controlled storage and transportation and ensure that any storage takes place in a unit with both temperature and humidity control.
Conclusion
Arranging piano transportation over a long distance is another concern for piano owners. 2 Men and Van a Professional Piano Moving Company, you can rest assured that your piano is in the safe hands of the professionals with the know-how.
We are the long-distance piano movers that aim to make your piano removals smooth and damage-free.
Our experience, skills, and efficient approach have led us to become established and trusted removalists throughout Australia with a reputation for a friendly, polite, professional piano movers service. This is why we work hard to ensure that our customers receive an excellent quality of service that continues to build our reputation time and time again.
Do you require more information?
If "Yes" then call us on our number: 0480033100
Or you can email at: info@2menandvan.com.au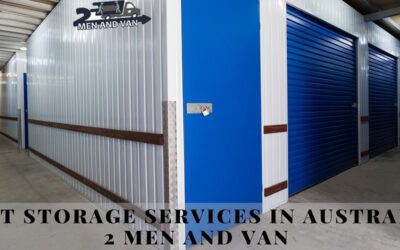 Looking for reliable storage services that work for you and enabling you to make sure your belongings are safe and secure can sometimes feel like a challenge or struggle. But our 2 Men and Van removalists services also include a storage option, making it ideal for...
read more