No doubt moving house with pets is tiresome and dull but it can be made smooth and convenient if you hire someone for moving. Moving with Pets may not be as easy as it seems and sometimes may be quite challenging too. Pets love their stable environment very much or the environment they are used to so once you decide to move, you should involve your pet in the process. For example, when you are looking for the property to move or when you decide on the property, take your pet along for property inspection.
Doing this can help them to get along well with the sound, smell, and scenario of the new environment you are ready to shift with House movers and the initial shock will be less. Hiring a professional for moving house with pets saves time and helps your pet in the best way possible. To solve the difficulty of moving pets (specifically cats, dogs, and rabbits) along with your all items, 2 Men and Van is here to help you release your stress and provide you with the best quality services across Australia.
POINTS TO REMEMBER IF YOU ARE MOVING HOUSE WITH YOUR PET
Here are some key points to remember while hiring House Movers:
Be happy because if you'll be anxious your pet will also feel the same. If pets are happy they will not create chaos and will not disturb House Removalists.
On the day to move, remember to also carry old bedding as pets are more comfortable with their old bed and its scent. Also pack their poop bags, blanket, pet food, water bowls, etc, and keep them engaged bones, favourite toys, etc.
On moving day, when you'll have House movers with a pet, stay close to your pet as they might create a hurdle for house movers carrying your fragile belongings by tripping them down the stairs or by getting in their path or under their foot.
Your pet might not like someone coming into your house suddenly and clearing the goods so it's better to make them feel closer and familiar with house movers by introducing them to each other so that they become friendly with their smell.
During travelling remember to keep your pet and its belongings along with you if you are moving in your own vehicle and give them a designated place.
Whether it takes a few hours or some days it is important to remember all these points while moving with pets.
Many Research studies have shown that it is very exhausting to move house with pets
Now there are some guidelines for you to follow, ensuring low cost and safest House movers –
WHAT TO DO BEFORE THE MOVE?
Pets are territorial. They might not like the place they are about to shift with House Movers. Several times, they might run back miles away to their old house. So it's important to make them familiar with the new changes taking place around them. Take your pet more and more outside, for them to get used to unfamiliar surroundings. Take them to the new house several times so that they can develop the idea of shifting to a new house.
Pets are not afraid to show their feelings to their owner, they hide or bark a lot in an unfamiliar atmosphere. Make them aware of the changes going to take place once furniture removalists team arrive and start packing the household things. Remember to put your pet's belongings in the new house before the arrival of the pet, to ensure that the pet doesn't feel strange and give them a familiar vibe.
WHAT TO DO DURING THE MOVE?
Try to keep the routine of your pet as normal as possible. Feed them at usual times, and take them out for a walk as you usually do. Pets can sense their atmosphere, so try to remain normal or calm during the move. Many experienced House movers with pets suggest the same. Our company 2 Men and Van tries our best to reduce your anxiety on a moving day.
WHAT TO DO AFTER THE MOVE?
Don't leave your pet alone at home as they may feel uncomfortable owing to the changes around them. Keep them under your observance and reduce their access to outside. Give care and attention to them till they feel good to explore the rest of the house. Once they get used, it would be easy for you and also for them.
Tips to Follow While Moving with Pets
PROFESSIONAL HOUSE MOVERS
The first thing you must do is to hire a professional house removalists while Moving house with Pets. They'll help you with all relocation-related tasks. Their job includes packing and unpacking essential goods, safely loading them into their van, and transporting them in an accurate time. Hiring house movers reduces the chances of damages to the goods.
PACKING ESSENTIALS OF YOUR PET
Pack all the essentials of your pet in a separate bag before the moving day. Your pet's belongings are their best buddy. They feel good around their own items. It includes a blanket, bedsheet, bowls, etc. Unpack all these things as soon as you arrive at your new house.
CONSULT YOUR VET
If you are going to move to a new house remember to consult your veterinarian. Tell them about relocating with your pet with the help of House Movers. They can tell you about your pet's condition and how long they can travel. The vet can also provide an anti-anxiety medicine if required.
INTERSTATE AND INTERNATIONAL RELOCATING
2 Men and Van can help you in moving interstate or internationally. We will guide you from the beginning until the end. For example, when you'll relocate internationally you will have to make your pets passport, animal health certificate, shipping time, vaccines, etc.
VACCINATING YOUR PET ON TIME
Get your pet's vaccination up to date before moving especially when you are moving to rural areas. Keeping them vaccinated makes them healthy and lively and also the pets around them. You may consult your vet as to when your pet's vaccination will finish.
SAFETY COMES FIRST
Your pet's safety is your utmost priority. Keeping them safe on a moving day is very important and also very difficult at the same time as you might be busy with moving with pets. Give your best to make your pets' routine normal. Treat it like the way you always do. Play with them, give them some time, having lots of treats to distract them will always help. Many Professionals believe the same while moving house with pets. Don't feed your pet just before moving in case of travel sickness.
SEPARATE PLACE FOR PET
For moving with pets arrange a separate place for your pet on a moving day. To avoid unnecessary trouble and to keep the paths clear for your house Movers arrange a room in the house away. First, clear it, then put your pet into the room along with things that will keep them comfortable for the time being, such as comfy bedding, favourite toys, favourite food, and water.
COMFORTABLE PLACE FOR PET AT YOUR NEW HOME
Set up a comfortable place for them to sit after you arrive there, especially the one being calm and peaceful. It would be better if it would be similar to their old place giving them a homely feeling. Give them things to keep them busy. Check on them at regular intervals to ensure that they are not distressed by the changes around them.
MAKE THEM FAMILIAR WITH NEW ENVIRONMENT
Once you arrive at your new house by moving with pets it is better to take them out to the new area so he or she can get accustomed to their new daily route. Once in your new house, check whether the fences and gates are secure enough or do not have any hidden area before letting them out into the garden to explore.
REGISTERING PET IN YOUR NEW AREA
If you are moving house with a pet far away, remember to register your pet with a vet in your new area to keep them healthy and get them checked up at regular intervals.
CONCLUSION
There's a lot to think about when moving house with pets. If you are worried enough about moving, here is our expert team that can help you any time with our moving services and cleaning services in Australia. That is why our company 2 Men and Van is here to make the move stress-free and easy. Our professionals know the best for you so allow them to handle all the hectic and hassle-free tasks. We give our service at affordable and cheap rates.
Now that you know exactly what to do in the week before moving house with your pet, during the move, or after the move to save you time, money, and stress on your move. We have years of experience in moving services including moving with pets. At 2 Men and Van, we offer a wide range of quality services that suits your requirements.
Do you still have a doubt and require an answer to your query then you can
You can call us on 0480033100 Or

You can send us an email defining your query at info@2menandvan.com.au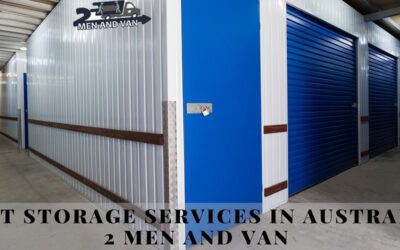 Looking for reliable storage services that work for you and enabling you to make sure your belongings are safe and secure can sometimes feel like a challenge or struggle. But our 2 Men and Van removalists services also include a storage option, making it ideal for...
read more