Moving interstate is a big milestone, but it is a back-breaking process too. There are plenty of things to do in a short amount of time that you end up contend at the final moment. From exploring the suitable cheap interstate removalists service for your move to switching your address. It always seems like a never-ending list of tasks that need to be completed. Luckily, there are a number of moves you can take to decrease your workload to a great margin.
And, one of them is choosing the right unit for your task. Our firm can assist you in your interstate move and provide all the things that are required. There are various reasons that make 2 Men and Van is the best choice for you to address your problem related to the interstate move. Some of them are listed below:
Distance
Most of the time it is the geographical stretch that makes the interstate move more difficult than it is. Securing something for thousands of miles away isn't the effortless task to take. The potholes and unnecessary traffic can make things even worse. The team we put to provide you with the service is qualified enough to handle all the problems during the process. We have a good navigation process which provides us with the necessary help that our drivers required on the road.
Secure and Safe Packaging
Professional house movers are aware of the risks involved in transporting the goods from one place to another. They pack all the goods with exceptional care and safety. They also organize all your belongings according to their uses and label them. Then they tightly secure them using bubble wraps and furniture padding.
Man with van removalists transports the goods to the desired location after everything has been packed safely. During the entire process, they take extra precautions so as to not damage any goods. Often, we try to complete the move ourselves but end up causing more damage than expected. So, hiring house movers for your cheap interstate removalists is always the best option.
The Convenient Factor
This is a factor which is necessary for making every customer's service experience great. Be convenient on the service makes you relax and watch the show set comfortability. With our expert mover, you don't need to worry about moving all those heavy and big sizes items, shift them safely, and setting everything up at your new place.
You likewise don't have to stress over requesting that your companions help you move and hearing dozens of unique reasons. With our team of the best interstate house removalists, all you need to do is sit back and watch as every item gets shifted.
Remove the juggling of multiple trips
It's one of the obvious reasons, isn't it? When you join hands with our professional movers then you don't need to worry about moving here and there multiple times for the relocation of your house. Our firm equipped with trucks and vans of multiple sizes to make your that your items can be shifted in a single trip.
Insurance for all your valuables
Goods get damaged by house movers due to various unforeseen reasons. In this case, you can always get all your goods insured for a completely risk-free move. 2 men and van offer you an option of full removal insurance cover to get your goods insured before the move at very low prices.
It is extremely important to get your goods and other valuables insured before any interstate move as moving interstate is time-consuming and you do not know about the risk that it might pose to your goods. The services from our firm are affordable and our cheap interstate removalists also offer man with van removal.
Cost-effective moving experience
We prefer moving by ourselves in order to cut down on the costs that are involved in hiring cheap interstate movers. However, it poses a serious risk of damaging your goods. You end up causing damage that is worth more than what the moving company would have charged.
The only way you can cut down on these costs is by hiring cheap interstate removalists or house movers that offer insurance for all your goods. If you compare the rates of different movers and choose the cheapest movers for yourself then you will be able to save money as well as carry out a safe move.
Reduces the stress on your mind as well as body
Moving is one of the greatest stressors in one's life. This task can make people lose their sleep. Packing all your goods in proper boxes, then securing them with wraps and blankets, and finally putting them in a car is very draining. When you reach home and your goods are damaged, then all your efforts go to waste.
Cheap interstate removalists come at your disposal and take care of all the nitty-gritty of the move. When you choose a top removal company such as 2 Men and van, then you can save yourself a lot of unnecessary stress. They will help you reduce your stress and save your money at the same time. You can also trust them to complete the move without any damage to your valuables.
Want more information?
Then call us on- 0480033100 or
you can mail us on- info@2menandvan.com.au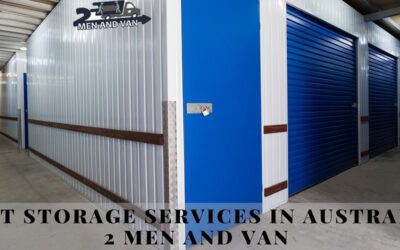 Looking for reliable storage services that work for you and enabling you to make sure your belongings are safe and secure can sometimes feel like a challenge or struggle. But our 2 Men and Van removalists services also include a storage option, making it ideal for...
read more