Office Relocation require a collective commitment to planning, timeliness, and efficiency. Moving to a new office or business does not have to be difficult with our office movers experts. Our 2 Men And Van office removalists team are experts at moving office furniture and equipment.
we also take care of all belongings whether it is related to fragile office items, files, computers, data servers, etc. When office moving is unavoidable, your office relocation services company needs to anticipate the obstacles that could come up during the move and prepare for it. The entire office relocation process is a very tiring one.
There are too many factors to contend with and that is what makes the whole process time-consuming, difficult, and challenging. The procedure of packing, transit, unpacking, and installation at the new place does take an extensive time. This gets worse when items are damaged. It affects productivity, reduces sales, and increases your customers' complaints.
You don't have to worry about your Office Removalists problems, do you?
Our customers trusted us because of our unique reputation for managing moves of virtually any scale quickly and with optimal capacity. Every office relocation process requires proper planning and knowledge of careful packing and transportation. 2 Men and Van are providing office relocation services for many years and have shifted many offices in Australia without hassle.
This is why you need to move with professional office movers. Move your office equipment and people without stress anywhere in Australia. Move with our Office Removalists experts just like 2 Men and Van. From the planning of the office relocation process to overseeing the relocation, and finally the whole execution.
You can trust 2 Men And Van, one of the most trusted office removalists companies in Australia. To smoothly handle all your office Moving needs by delivering office relocation services of the highest quality. There are a lot of tasks to consider and it is essential to organize and hire an expert office mover to complete the task in a smooth manner.
Hire professional Office removalists for Office Relocation
The task of office relocation brings a lot of chaos in the working environment. Business corporate should hire expert Office movers for Office Relocation services. This will enable your company to save a lot of time in office relocation.
Hiring a reputed team of office movers would save you from Relocation plans, Shipment of old office appliances, Equipment needed, Infrastructure needed, and Quotation for the entire procedure. 2 Men and Van, trustworthy Office Removalists movers also help you in legal documentation, to obtain business permits and construction permits.
Use of Premium Packing Materials
Office Removalists service providers bring high-quality packing materials and equipment to deliver you the best packing and unpacking services. They implement the latest advanced technology to pack and unpack heavy goods and official equipment.
Advance Planning is Key
Professional office movers would execute office relocation from scratch to the end. The office relocation services provided by Office Removalists planning ahead of time. They come up with various strategic facilities and set up lease negotiations.
These people would handle the layout, designs, and re-sticking of floor carpets, ceilings, dismantling of air conditioners and electronic items. 2 Men And Van would perform relocation tasks at the desired location. These office Removalists providers give assurance to handle departure assistance.
Effective and secure service from start to finish
At each and every stage of your office relocation, our expert team will endeavor to stick to setting the schedules. Our 2 Men and Van very well know, that your time is valuable and we aim to make the process shift with no disappointing delays.
Shipping Cargo
Office Removalists providers also offer cargo shipping services. They would arrange the cargo shipping date at a suitable time. Hiring office movers services would enable to obtain cargo clearances smoothly. They would also solve even minute details and problems regarding cargo shipping. Established office movers use advanced equipment to monitor cargo during transit. Even if your office is not ready, to install all the belonging, we offer temporary storage services for furniture and fine arts.
The expected deliveries would arrive at the scheduled time in the desired location.
Reputed companies like 2 Men And Van also set up telecommunications connections, electrical wires, air-conditioning, and setting up of office furniture and electronic gadgets and machine. Our Special expert's office movers also manage information technology and other utility services.
Less Disruption to Your Business
These office Removalists providers offer a less disruptive environment during the office relocating task. They are moving experts who have been in the shifting business for years. Therefore, they help the business organization to get back into the system in a quick time frame. They would also set the right pipeline fittings, faulty ceilings, bathroom fittings, and the installation of power backup equipment.
If you are planning to relocate your office then hire professional Office Removalists for relocating office services in Australia. These office movers have a wide network of a transportation network.
Insurance Coverage & Additional Services
Before hiring an Office Removalists expert for relocating office, always ask for removal insurance cover. Find out the monetary compensation aspect. During the office relocation process, our company will provide you compensation in cases of loss and misplacement of your goods.
The listed packing companies develop convenient and wonderful methods for office relocation services. They also provide prompt services that would meet the high expectations of customers. These Office Removalists are best known to offer unmatched and ample smart office moving services. 2 Men and Van also provide attractive insurance coverage in case of an unfortunate accident.
About Our Company
Relocating an office from one location to another is a stressful task that requires proper planning, knowledge, and expertise on how to move furniture and other office items. At 2 Men and Van, we offer office Removalists services in Australia.
We have trusted office removalists in Australia and offer effective and reasonable office removal. Whether you are moving the entire items in your office including the paperwork, filing cabinets boxes, or you are just moving a portion of them.
Our Office Removalists will take care of your belongings carefully. Forget about the stress of relocating your office and hire our established office movers team to take charge. With years of experience in moving services, 2 Men and Van ensure a tension-free office relocation while keeping downtime to an absolute minimum.
Do you require more information?
If "Yes" then call us on our number : 0480033100
Or you can email at : info@2menandvan.com.au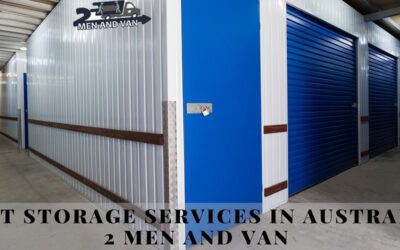 Looking for reliable storage services that work for you and enabling you to make sure your belongings are safe and secure can sometimes feel like a challenge or struggle. But our 2 Men and Van removalists services also include a storage option, making it ideal for...
read more